Still Looking For The Perfect Mother's Day Gift?
Give a Wardrobe Declutter & Revamp Experience to the Mother in your life; she'll love it!  Proving a last-minute Mother's Day gift doesn't have to be a compromise, it can be 'just perfect' for your mum.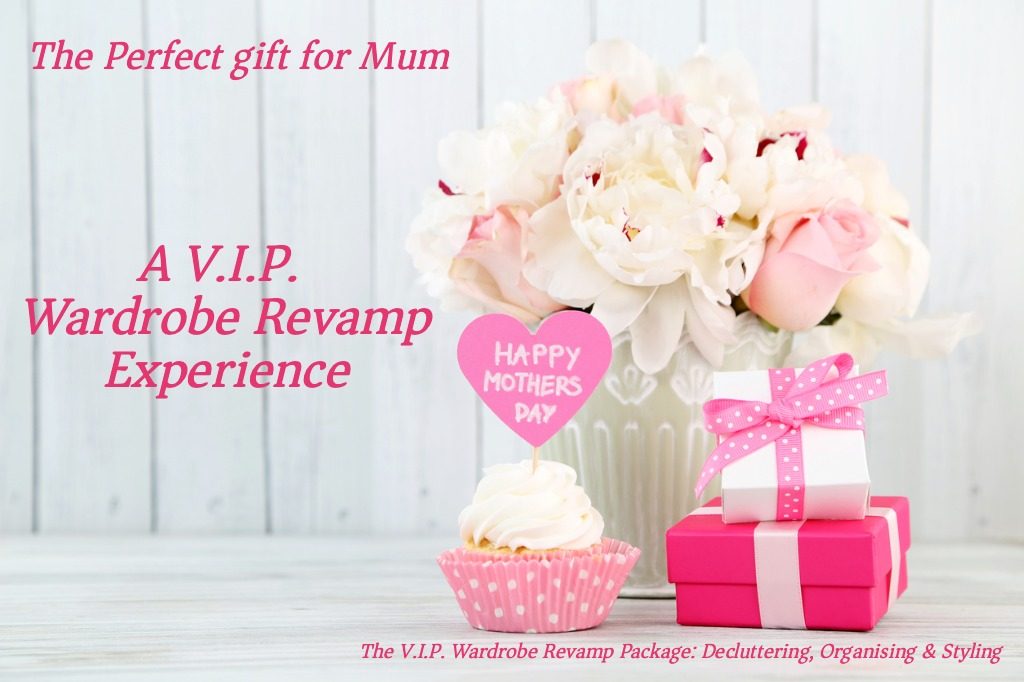 Mums do a fantastic job thinking of others and putting their needs first, often not taking the time to take care of themselves.
Many mothers need and want to revamp their wardrobe, re-discover their mojo and look and feel great; this gift gives them the 'green light' to do just that.
When you give a Wardrobe Declutter and Revamp Experience you're giving a gift that's perfect for a mother of any age;  because all mothers appreciate some 'me time', but few make it a priority in their lives.
V.I.P. Wardrobe Revamp Experience Is:
A Declutter & Cleanse – of clothing, shoes, & accessories.
A Re-style – swapping and switching-up existing items.
It is Organising & Finding Favourites – that look and feel good.
Help and Guidance on what works and why, and what to look for in the future.
"I know from experience, the result is a decluttered and organised mum who's more confident in her wardrobe and herself!"
'You're Right That Sounds Perfect, I'm Interested'
If you'd like to give a Wardrobe Declutter and Revamp Experience to the Mother in your life this Mother's Day, it's not too late.
To book this V.I.P. experience call me, Kerry on 0421 159 009 or email info@homesrevamped.com
The Cost:  $250*
The Value:  Invaluable, long lasting and transformational experience.  A gift that's needed and wanted; it won't be wasted.
Terms & Conditions:
Gift Voucher supplied once payment confirmed; it is valid for 12 months.
'The Mother' in your life needs to live in the Perth Area.
Included in the package is an introduction call, where your mum gets the chance to talk through where she's at before making her booking.
* FYI, a similar service advertised on Red Balloon is priced at $290.
If you'd like to know more, who I am, how I work and what my clients say about me just click the links or explore the website. I look forward to hearing from you!